Adhesives: Adhesives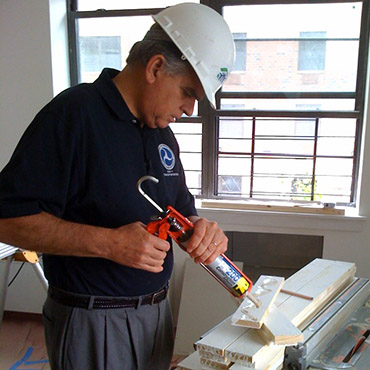 Adhesive may be used interchangeably with glue, cement, mucilage, or paste, and is any substance applied to one surface, or both surfaces, of two separate items that binds them together and resists their separation. Adjectives may be used in conjunction with the word "adhesive" to describe properties based on the substance's physical or chemical form, the type of materials joined, or conditions under which it is applied.
The use of adhesives offers many advantages over binding techniques such as sewing, mechanical fastening, thermal bonding, etc. These include the ability to bind different materials together, to distribute stress more efficiently across the joint, the cost effectiveness of an easily mechanized process, an improvement in aesthetic design, and increased design flexibility. Disadvantages of adhesive use include decreased stability at high temperatures, relative weakness in bonding large objects with a small bonding surface area, and greater difficulty in separating objects during testing. Adhesives are typically organized by the method of adhesion. These are then organized into reactive and non-reactive adhesives, which refers to whether the adhesive chemically reacts in order to harden. Alternatively they can be organized by whether the raw stock is of natural or synthetic origin, or by their starting physical phase.
Adhesives may be found naturally or produced synthetically. The earliest human use of adhesive-like substances was approximately 200,000 years ago. The first references to adhesives in literature first appeared in approximately 2000 BCE. The Greeks and Romans made great contributions to the development of adhesives. In Europe, glue was not widely used until the period 1500–1700 CE. From then until the 1900s increases in adhesive use and discovery were relatively gradual. Only since the last century has the development of synthetic adhesives accelerated rapidly, and innovation in the field continues to the present.
Adhesives are typically organized by the method of adhesion. These are then organized into reactive and non-reactive adhesives, which refers to whether the adhesive chemically reacts in order to harden. Alternatively they can be organized by whether the raw stock is of natural, or synthetic origin, or by their starting physical phase.
Types by reactiveness
Drying adhesives
There are two types of adhesives that harden by drying: solvent-based adhesives and polymer dispersion adhesives, also known as emulsion adhesives. Solvent-based adhesives are a mixture of ingredients (typically polymers) dissolved in a solvent. White glue, contact adhesives and rubber cements are members of the drying adhesive family. As the solvent evaporates, the adhesive hardens. Depending on the chemical composition of the adhesive, they will adhere to different materials to greater or lesser degrees.
Polymer dispersion adhesives are milky-white dispersions often based on polyvinyl acetate (PVAc). They are used extensively in the woodworking and packaging industries. They are also used with fabrics and fabric-based components, and in engineered products such as loudspeaker cones.
Pressure-sensitive adhesives
Pressure-sensitive adhesives (PSA) form a bond by the application of light pressure to marry the adhesive with the adherend. They are designed to have a balance between flow and resistance to flow. The bond forms because the adhesive is soft enough to flow (i.e., "wet") to the adherend. The bond has strength because the adhesive is hard enough to resist flow when stress is applied to the bond. Once the adhesive and the adherend are in close proximity, molecular interactions, such as van der Waals forces, become involved in the bond, contributing significantly to its ultimate strength.
PSAs are designed for either permanent or removable applications. Examples of permanent applications include safety labels for power equipment, foil tape for HVAC duct work, automotive interior trim assembly, and sound/vibration damping films. Some high performance permanent PSAs exhibit high adhesion values and can support kilograms of weight per square centimeter of contact area, even at elevated temperatures. Permanent PSAs may initially be removable (for example to recover mislabeled goods) and build adhesion to a permanent bond after several hours or days.
Removable adhesives are designed to form a temporary bond, and ideally can be removed after months or years without leaving residue on the adherend. Removable adhesives are used in applications such as surface protection films, masking tapes, bookmark and note papers, barcodes labels, price marking labels, promotional graphics materials, and for skin contact (wound care dressings, EKG electrodes, athletic tape, analgesic and transdermal drug patches, etc.). Some removable adhesives are designed to repeatedly stick and unstick. They have low adhesion, and generally cannot support much weight. Pressure-sensitive adhesive is used in Post-it notes.
Pressure-sensitive adhesives are manufactured with either a liquid carrier or in 100% solid form. Articles are made from liquid PSAs by coating the adhesive and drying off the solvent or water carrier. They may be further heated to initiate a cross-linking reaction and increase molecular weight. 100% solid PSAs may be low viscosity polymers that are coated and then reacted with radiation to increase molecular weight and form the adhesive, or they may be high viscosity materials that are heated to reduce viscosity enough to allow coating, and then cooled to their final form. Major raw material for PSA's are acrylate-based polymers.
Contact adhesives
Contact adhesives are used in strong bonds with high shear-resistance like laminates, such as bonding Formica to a wooden counter, and in footwear, as in attaching outsoles to uppers.
Natural rubber and polychloroprene (Neoprene) are commonly used contact adhesives. Both of these elastomers undergo strain crystallization. In the construction industry a specialised proprietary adhesive known as "liquid nails" is used. This also copes with tasks such as sealing artificial turf.
Contact adhesives must be applied to both surfaces and allowed some time to dry before the two surfaces are pushed together. Some contact adhesives require as long as 24 hours to dry before the surfaces are to be held together. Once the surfaces are pushed together, the bond forms very quickly. It is usually not necessary to apply pressure for a long time, so there is less need for clamps.
Hot adhesives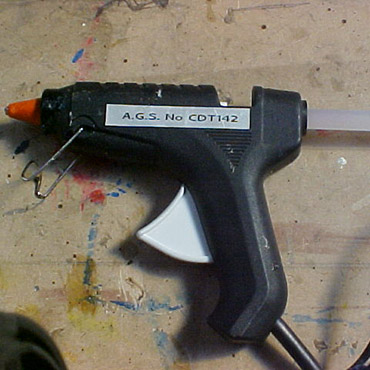 Hot adhesives, also known as hot melt adhesives, are thermoplastics applied in molten form (in the 65–180 °C range) which solidify on cooling to form strong bonds between a wide range of materials. Ethylene-vinyl acetate-based hot-melts are particularly popular for crafts because of their ease of use and the wide range of common materials they can join. A glue gun  is one method of applying hot adhesives. The glue gun melts the solid adhesive, then allows the liquid to pass through its barrel onto the material, where it solidifies.
Thermoplastic glue may have been invented around 1940 by Procter & Gamble as a solution to the problem that water-based adhesives, commonly used in packaging at that time, failed in humid climates, causing packages to open.
Multi-part adhesives
Multi-component adhesives harden by mixing two or more components which chemically react. This reaction causes polymers to cross-link into acrylics, urethanes, and epoxies.
There are several commercial combinations of multi-component adhesives in use in industry. Some of these combinations are:
Polyester resin – polyurethane resin
Polyols – polyurethane resin
Acrylic polymers – polyurethane resins
The individual components of a multi-component adhesive are not adhesive by nature. The individual components react with each other after being mixed and show full adhesion only on curing. The multi-component resins can be either solvent-based or solvent-less. The solvents present in the adhesives are a medium for the polyester or the polyurethane resin. The solvent is dried during the curing process.
One-part adhesives
One-part adhesives harden via a chemical reaction with an external energy source, such as radiation, heat, and moisture.
Ultraviolet (UV) light curing adhesives, also known as light curing materials (LCM), have become popular within the manufacturing sector due to their rapid curing time and strong bond strength. Light curing adhesives can cure in as little as a second and many formulations can bond dissimilar substrates (materials) and withstand harsh temperatures. These qualities make UV curing adhesives essential to the manufacturing of items in many industrial markets such as electronics, telecommunications, medical, aerospace, glass, and optical. Unlike traditional adhesives, UV light curing adhesives not only bond materials together but they can also be used to seal and coat products. They are generally acrylic-based.
Heat curing adhesives consist of a pre-made mixture of two or more components. When heat is applied the components react and cross-link. This type of adhesive includes epoxies, urethanes, and polyimides.
Moisture curing adhesives cure when they react with moisture present on the substrate surface or in the air. This type of adhesive includes cyanoacrylates and urethanes.
See also: List of polyurethane applications § Adhesives
Types by origin
Natural adhesives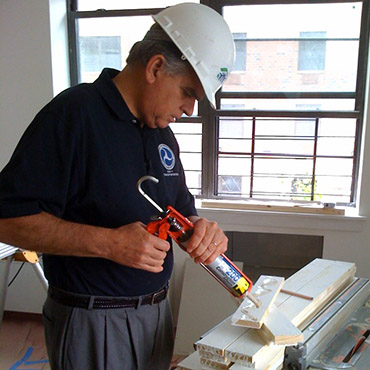 Natural adhesives are made from organic sources such as vegetable starch (dextrin), natural resins, or animals (e.g. the milk protein casein and hide-based animal glues). These are often referred to as bioadhesives.
One example is a simple paste made by cooking flour in water. Starch-based adhesives are used in corrugated board and paper sack production, paper tube winding, and wallpaper adhesives. Casein glue is mainly used to adhere glass bottle labels. Animal glues have traditionally been used in bookbinding, wood joining, and many other areas but now are largely replaced by synthetic glues except in specialist applications like the production and repair of stringed instruments. Albumen made from the protein component of blood has been used in the plywood industry. Masonite, a wood hardboard, was originally bonded using natural wood lignin, an organic polymer, though most modern particle boards such as MDF use synthetic thermosetting resins.
Synthetic adhesives
Synthetic adhesives are based on elastomers, thermoplastics, emulsions, and thermosets. Examples of thermosetting adhesives are: epoxy, polyurethane, cyanoacrylate and acrylic polymers. The first commercially produced synthetic adhesive was Karlsons Klister in the 1920s.